The Team at Farmington Square Gresham
The Farmington Square team is comprised of passionate and well-trained individuals dedicated to exceptional senior care.
Our goal is to help our residents achieve maximum independence, while supplying excellent social, physical and emotional support. We offer exceptional wellness programs, social activities and health care in a family atmosphere to create a community you will enjoy calling home. Our team of dedicated and compassionate staff is there when you need them.
Interested in joining the Farmington Square team? Visit our careers page!

Meet our Administrators:
Betty Aberg, Executive Director
Betty Aberg's first job was feeding residents and delivering laundry in a skilled nursing facility when she was fourteen years old. She fell in love with serving seniors and knew that there must be a better way to improve their daily lives. Her experience in long term care has been in all phases of independent, assisted living, memory care and Continuum of Care Retirement Communities. She finds all aspects of senior care both fascinating and enriching, but has a soft spot for memory care. Betty holds a Bachelor's Degree in Business Administration from Southern Oregon State University, magna cum laude, with a dual minor in marketing and psychology with an honorary Masters in Business Management from Kansas State as part of a program through Coulter Enterprises. She also holds Administrator certificates for Oregon, Washington and California. She has been in regional operations and sales management for 25 years, where she feels she has been fortunate to enjoy fabulous mentors in startups, mergers & acquisitions, IPOs, operation strategies and financial management accountability. Her mentors have helped teach her how to build high performing teams and make a significant difference in the lives of the residents and team members that she and her team serve daily. Betty finds training others and improving operations particularly rewarding because she feels it is paying it forward to others who will ultimately influence the future of the senior living industry. She is results oriented, adept at public speaking and at developing training programs. In her spare time Betty loves to garden, serve on the board to Christmas Ships which she and her husband participate yearly, spoil her three Yorkie dogs and volunteer for Habitat for Humanity.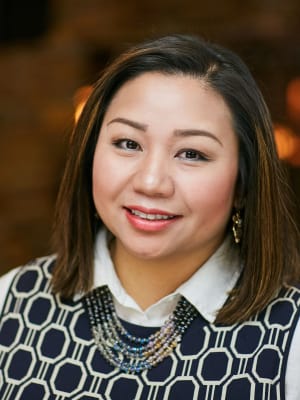 Mai Lor, Assistant Executive Director
Mai Lor began her career in long-term care in 2007. She received her Certified Nursing Assistant certification in 2008 and began working in a Skilled Nursing Facility. Mai then transitioned into an Independent and Assisted Living community setting where she worked while simultaneously attending the University of Phoenix. After obtaining her Bachelor's degree in Human Services and Management, Mai felt that it was time to take the next step in her career. She joined Farmington Square as a Resident Care Coordinator. Soon after she was promoted to Assistant Executive Director for her attention to and passion for resident care and team member engagement. Her next goal is to continue her education by obtaining a Masters in Business Administration and Health Care Management and applying those skills to her work at Farmington Square.